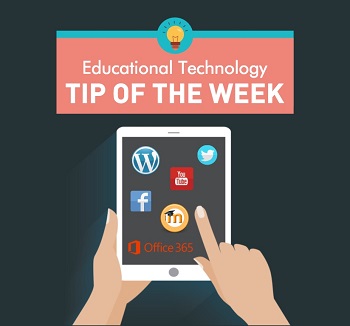 Tip of the Week is a series wherein a member of the educational technology group describes a resource that's available to the Trinity community, how to use it, and why.
Trinity College has a campus agreement with Microsoft, which allows anyone on campus (faculty, students, staff) to do two things: first, you can download and install Microsoft Office on up to 5 computers you control. And second, you can access Office365, Microsoft's cloud-based version of Microsoft Office, as well as OneDrive, which gives you one terabyte of storage. You can find instructions for downloading Office and for accessing OneDrive on the Information Services website; in this post, I want to briefly explain why you might want to take advantage of OneDrive and Office365.
The two biggest reasons to take advantage of Office365 are the one terabyte of cloud-based storage it gives you, as well as the ability to access all the smartphone/tablet versions of Office. A third reason is that you can access, edit, and share your files from any device with a web browser and an internet connection.
Accessing Office365/OneDrive For the First Time
Go to portal.office.com, and enter your username@trincoll.edu:
(Obviously, use your own username!) The password field is greyed out, which is fine: just hit "tab" or "enter/return". The branding will change, and it'll look like this:
Now you can enter your password. Do so, click "sign in," and you'll be brought to this screen:
I've pixelated my files to avoid distractions; you shouldn't have any files listed yet. To add files to OneDrive, you can click the upload button in the middle of the top menu, or you can just drag-and-drop files from your desktop.
Also, note the two orange arrows. The one on the top left points to the Office365 apps: Browser-based versions of Word, PowerPoint, Excel, and more. That menu looks like this:
We'll revisit these apps in another week. (My basic take is that they are better at formatting and other specialized features than, for example, Google Docs, but they are less good at real-time collaboration. Although they're not terrible at it! They might be particularly useful if you frequently prepare documents or slideshows on one platform, but view them on another. If you make the file in Office 365, they will look the same everywhere.)
You could use OneDrive like this, and it will work reasonably well. However, the power of OneDrive comes into focus if you click the link marked out on the bottom left: "Get the OneDrive Apps." You'll see a screen like this:
Your browser will autodetect what kind of device you're accessing the site from, and it will suggest the correct one–in this case, it's the Mac version. Click "Download" and follow the rest of the instructions, and you'll see a brand-new folder appear in your directory:
(On a Mac, it'll say "OneDriveBusiness"; I believe on a PC it'll just say OneDrive. Microsoft's internal branding issues are beside the point.)
This folder looks like any other folder, but in fact anything stored within it automatically syncs to Microsoft's cloud servers, and is available on any machine if you log in to OneDrive. Also, if you have OneDrive installed on more than one device (for example, your office computer, your home computer, and a smartphone or tablet), these folders will always be in sync. (If you've used Dropbox or Google Drive, it's pretty similar.)
If you are uploading many files at once, or bigger files, uploading them via the folder is the safest way to do it.
Important note: Files shared with you via OneDrive will not automatically be synced to your computer. Everything else will be. This is a bit annoying, but there it is.
We will have more on working with OneDrive in future weeks; in the interval, you can learn more by checking out Lynda.com's series of videos on "Up and Running with OneDrive" (Details for accessing Lynda.com are available here: http://www.trincoll.edu/LITC/its/Pages/Lynda.asp.)
Accessing Office365/OneDrive from a Smartphone or Tablet
One of the real benefits of knowing how to access Office365 is that you are then able to use the Microsoft Office apps for smartphones and tablets (iOS, Android, or Windows). They have a pretty decent range of features for writing and commenting–for example, I have copyedited a colleague's book chapter on an iPad with Word, using track changes and comments.
For whichever smartphone or tablet ecosystem you have, go to its app store and find the Microsoft apps. (Alternatively, you can access the portal.office.com page from your web browser, and click on the "Get OneDrive Apps" as described above.)  Download and install the (free) apps, and then log in using the username@trincoll.edu method from above. Everything will sync up, and you should be all set!
(The mobile apps will even let you edit documents that are shared with you, as long the document was *specifically* shared with you–that is, it's not something you just accessed via a link.)
In a future post, we'll look more closely at working with files from the mobile apps.
Educational Technology can help you work out workflows for integrating Office365 or OneDrive into your classroom, but the Help Desk (x2100) is the place to get help with set up and configuration.